Geen producten gevonden...

BCN3D Filaments PAHT CF15 - 2.85 mm - 750 g - Black
BCN3D Filaments PAHT CF15 - 2.85 mm - 750 g - Black
Overview
PAHT CF15 (High Temperature Polyamide carbon fiber reinforced) combines high temperature and chemical resistance with extreme mechanical properties.
It allows to work under 150ºC continuous temperatures with the peak temperature of 180ºC in comparison to a standard PA. 15% carbon fiber reinforcement makes it stiffer thus open new fields for the printing of demanding applications.
Compatibility: Only with BCN3D Epsilon 3D printer.
Applications
Structural and functional parts subject to high temperatures and aggressive environments.
Metal replacement in the automotive industry.
Properties
High resistance to heat (up to 180ºC)
Stiff and impact resistant
As strong as annealed aluminium
High wear and abrasion resistance
Resistant to solvents and corrosive chemicals
Low moisture absorption
High dimensional stability
Easy to process
How to print
Printer setting
| | |
| --- | --- |
| Extruder temp. | |
| Bed temp. | |
| Cooling fan | |
| Speed | |
| Min. layer height | |
For BCN3D Cura users:
Get a proper printing profile for PAHT CF15 using the ones integrated into the BCN3D Cura. Download the latest version of BCN3D Cura.
Bed adhesion:
To ensure good bed adhesion use Magigoo Pro PA.
Recommendations:
Only compatible with BCN3D Epsilon when paired with the Hotend X.
Store it in an airtight container with desiccant.
Feed it cautiously into the machine.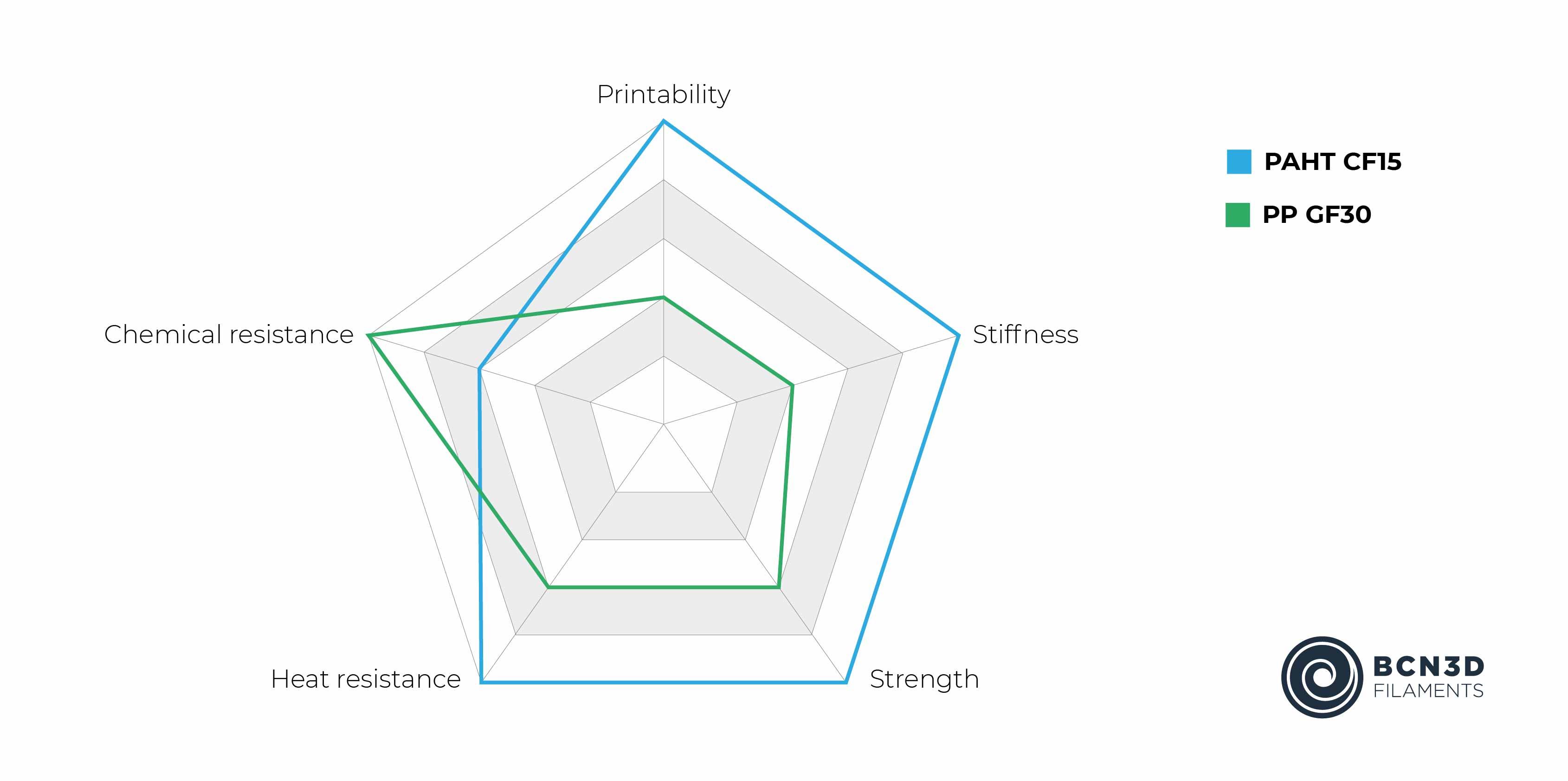 3Dfilamenten.nl
Hoofdstraat 58
3781AH Voorthuizen
Tel: 0342-474025
[email protected]
KvK: 09089448
Btw: NL153712739B01
Reknr: NL65ABNA0516433016
Mijn account
Betaalmethoden
U kunt bij ons op de volgende manieren betalen:



Klantenservice