Geen producten gevonden...

BCN3D Filaments PA - 2.85 mm - 750 g - Natural
BCN3D Filaments PA - 2.85 mm - 750 g - Natural
Overview
PA (Polyamide) is an engineering plastic, characterised by its great resistance to impact and able to work continuously at a temperature of up to 120 ºC for an extended period of time. Its semi-flexible behaviour derives from a semicrystalline structure, which impart strength and durability, best suited for the most demanding technical applications. A low coefficient of friction allows for a short-term use in contact with moving parts.
Compatibility: All BCN3D Printers.
Applications
Strong and flexible parts
Structural components exposed to a harsh environment
Parts demanding high fatigue endurance
Bearings, nuts, rivets, washers and gears
Cams, rollers, snap-fit joints and sliding components
Plugs, connectors, jigs and fixtures
Electronic covers and tool handles
Properties
Exceptional impact resistance and good strength
Low friction coefficient
High abrasion resistance
Thermal resistance (upt to 120ºC)
Good resistance to oil and alkali
Strongly hygroscopic
Thermomechanical properties dependent on environmental humidity
High-performance material with flexible applications
PA is a technical and competent material with an excellent impact strength and elongation at break. However, all this impact strength is compensated by a low level of stiffness that allows flexible applications.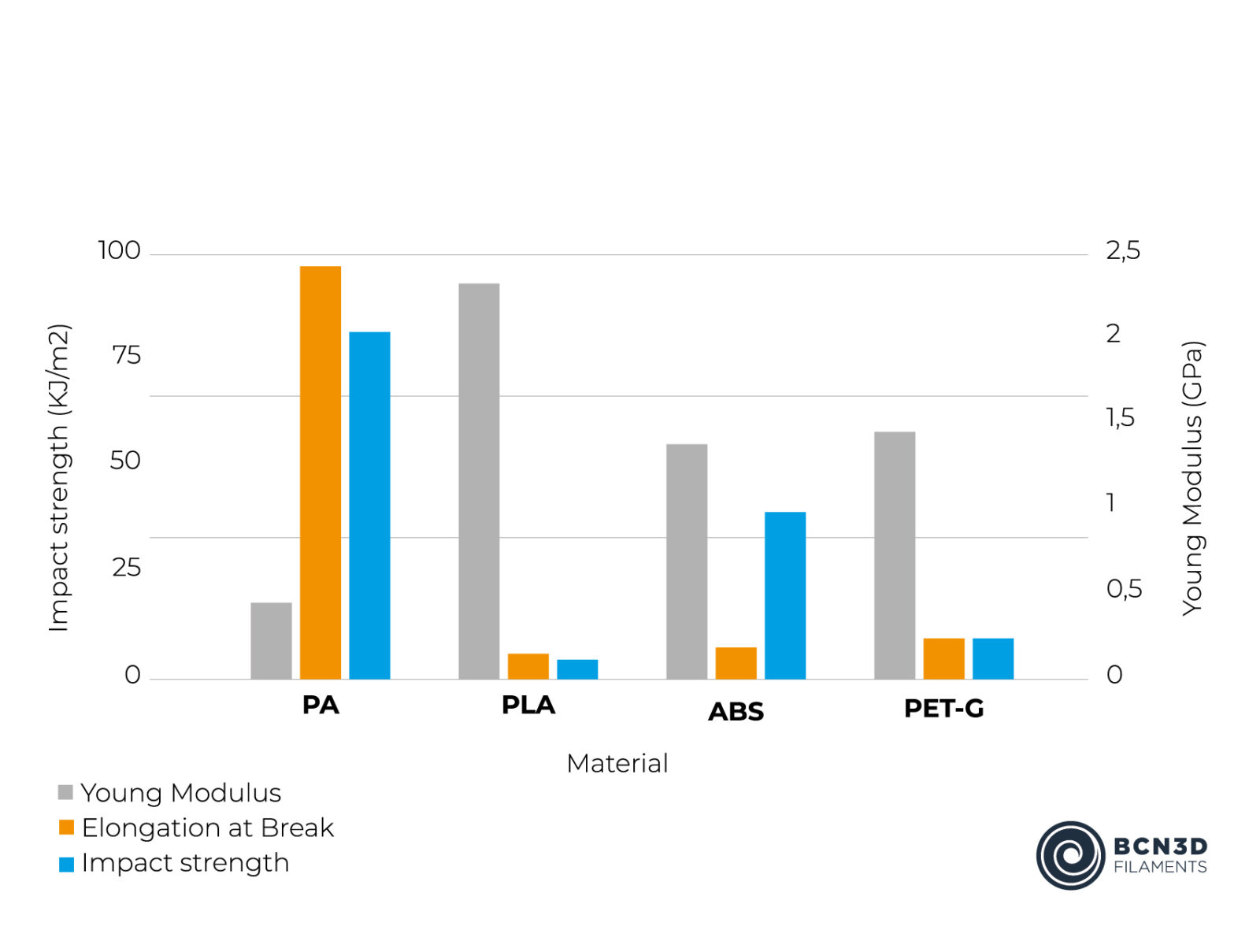 High abrasion resistant
Nylon is abrasion resistant due its low friction coefficient and It is a good choice for end-use durable parts
Parts demanding high fatigue endurance
Nylon is ideal for strong and flexible parts demanding high fatigue endurance
How to print
Printer setting
| | |
| --- | --- |
| Extruder temp. | |
| Bed temp. | |
| Cooling fan | |
| Speed | |
| Min. layer height | |
For BCN3D Cura users:
Get a proper printing profile for PA using the ones integrated into the BCN3D Cura. Download the latest version of BCN3D Cura.
Bed adhesion:
To ensure good bed adhesion use Magigoo PA.
Recommendations:
Store it in an airtight container with desiccant.
Dry filament before printing. Place it in an oven or in a dehydrator at 50ºC for 6 to 8 hours
Enclosure is required for BCN3D Sigma and Sigmax printers.
3Dfilamenten.nl
Hoofdstraat 58
3781AH Voorthuizen
Tel: 0342-474025
[email protected]
KvK: 09089448
Btw: NL153712739B01
Reknr: NL65ABNA0516433016
Mijn account
Betaalmethoden
U kunt bij ons op de volgende manieren betalen:



Klantenservice